Newsletter 07/2022
Ultra Blocking – more security and faster loading times
An exciting and unique new feature awaits you in our July update with Ultra Blocking. So far, certain cookies have already been set when a page is loaded, which is legally unsafe. The new blocking mechanism "Ultra Blocking" starts one step earlier, in that the browser blocks the cookies that have not been released based on a defined domain list. The consentmanager feature thus offers significantly more security than before and comes up with a faster loading time and lower CPU consumption. This makes the system significantly more efficient.
The function can easily be found in their CMP under menu> CMP's> Edit> activate "other settings" via a select box.
Review: Missed the webinar?! New video
Did you miss our last webinar? No problem, we recorded the webinar for you. Together with our partner funnel.de we organized the following webinar:
"Stress-free switch to Google Analytics 4 including cookie banner integration"
In addition to information and tips for the simple and practical implementation of Google Analytics 4, including the integration of the consent manager, data protection aspects in connection with Google Analytics 4 were also examined.
Click here for the video – have fun watching: https://www.consentmanager.de/wissen/videos/video-google-analytics-4-consentmanager-vergehen/
Do you already know our partner program?
Are you a marketing agency, IT company, trade association, data protection officer or similar and would like to offer your customers or members an extended service in the area of cookie consent platforms? Then we have the solution for you! Consentmanager offers various partner models for the respective needs.
Benefit from many advantages:
Increase your sales through commissions and service contracts with your customers
Build trust with your customers as a compliance expert
Increase customer satisfaction and loyalty
If you have any questions about our partner program, book an appointment with our experts or apply directly using our form at:
More information at: https://www.consentmanager.de/partnerprogramm/
WE'RE HIRING
Consentmanager expands its team! We are looking for committed employees who want to continue growing with us. Exciting tasks and a highly motivated and friendly team are waiting for new colleagues.
Our current positions:
If anyone knows anyone… please spread the word!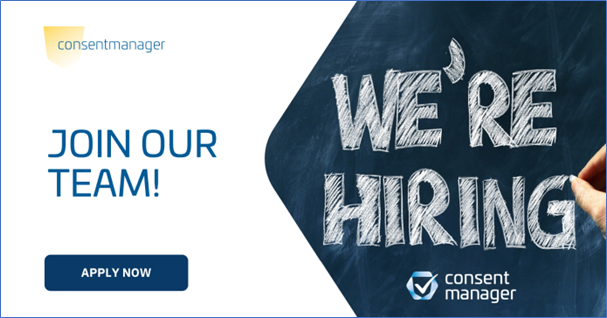 More optimizations and adjustments in July
Our update in July has more changes in store for you:
You can now choose between different flags for the language selection in the cookie banner
Better support for websites with "Shadow DOM"
Better bypass of AdBlockers
Further additions and adjustments in the area of ATT targeting, consent mode updates and bug fixes in time-controlled reporting were also carried out. The complete release log can be found here:
Release log
CMP-1341 Fix choice existed counting on SPA
CMP-1339 Make cookie info CMP-specific
CMP-1337 Fix shadow root in old browsers
CMP-1331 Fix scheduled reporting missing CMP name
CMP-1329 Fix JS compability String.prototype.replaceAll
CMP-1328 Rename css class cmpBoxWelcomeOptIn and cmpBoxWelcomeOptOut
CMP-1327 Fix imprint/tac link on custom language
CMP-1324 Fix recursion issue with getElementsByClassName
CMP-1336 "Save my preferences" on second layer
CMP-1209 Ultra automatic blocking
CMP-811 Update flag icons
CMP-1333 Allow ISO Codes instead of flag icons
CMP-1323 Content pass: add option to not close layer
CMP-1271 Recall icon: Option to show 2nd or 1st layer on click
CMP-1265 Add option to have "Use recommended vendors" button
CMP-1330 Consent Mode Updates
CMP-1320 design option to hide stacks
CMP-1319 ATT targeting