Newsletter 2021/06
New visual editor
With the latest update, we have dealt in particular with the topic of design and design adjustments. The design editor has been completely redesigned: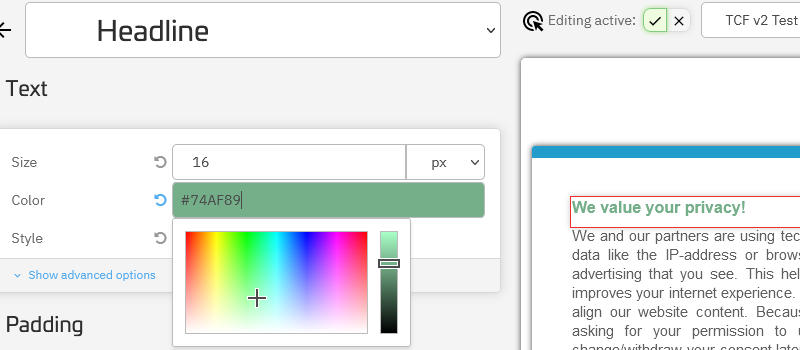 Instead of simply showing a preview as before, the design can now be adjusted directly in the preview. Simply click on a headline, for example, and the settings for the text style will appear. If you click on a button, the settings for button styles appear. This makes it even easier in the future to create your own design exactly to your taste.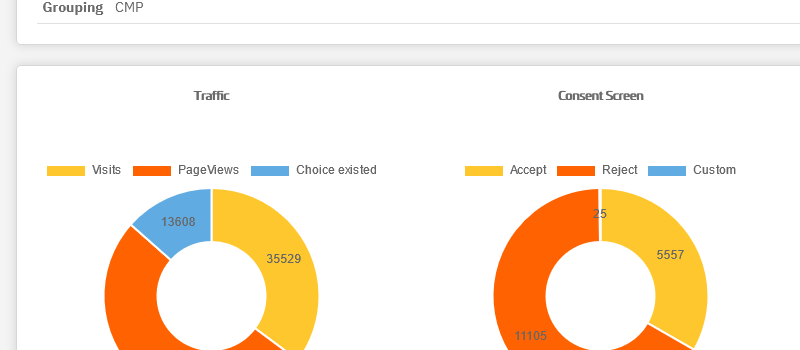 In addition, there are many new design options, such as the ability to set the size of the layer more specifically or to use your own icon for the preference center.
Videos of the webinars
There were a few webinars again last month. As always, you can find the videos on our website:
More features and changes
Reports can be automated and sent by email
New layer position "Push down" moves the website down
Dashboard can now be filtered according to CMP
New "classic" purpose "social media"
… and many more.
Release log
With the coming release we will apply the following changes:
CMP-636 Issue models to remove empty items
CMP-655 Issue switching buttons
CMP-637 Issue disabling consent with contentpass
CMP-447 Dashboard customization
CMP-511 Add option to blur background
CMP-630 Add graph to cmp report
CMP-632 Change box size settings
CMP-197 Option close button on custom choices page will bring back to welcome screen and not close
CMP-298 Set default language on text changes
CMP-67 Add option to push down site instead of overlay
CMP-386 Visual Design Editor
CMP-628 Add classic purpose Social Media
CMP-642 Issue with translating lists
CMP-648 Report schedule (Enterprise)
CMP-195 Mobile box settings with more details
CMP-178 Setting (bigger) box size
CMP-602 Autoblocking message "unassigned domain" but no domain
CMP-183 Use own icon for preference icon
CMP-622 Export Report to PDF
CMP-497 Add option to show close X only in preference center