Newsletter 2023/04
Flexible pricing through new add-ons
Are you looking for a suitable licensing model for the use of your Cookie Banner? With our new add-ons, you are now guaranteed to find the right mix of functions you need.
In addition to the existing price packages we now also offer various add-ons that you can combine with selected existing price packages.
New Add-ons include:
additional number of crawls
individually bookable CMPs
staging functionality
optimisation & design
laws
You simply book the add-ons in the user interface of your CMP in addition to the existing price packages.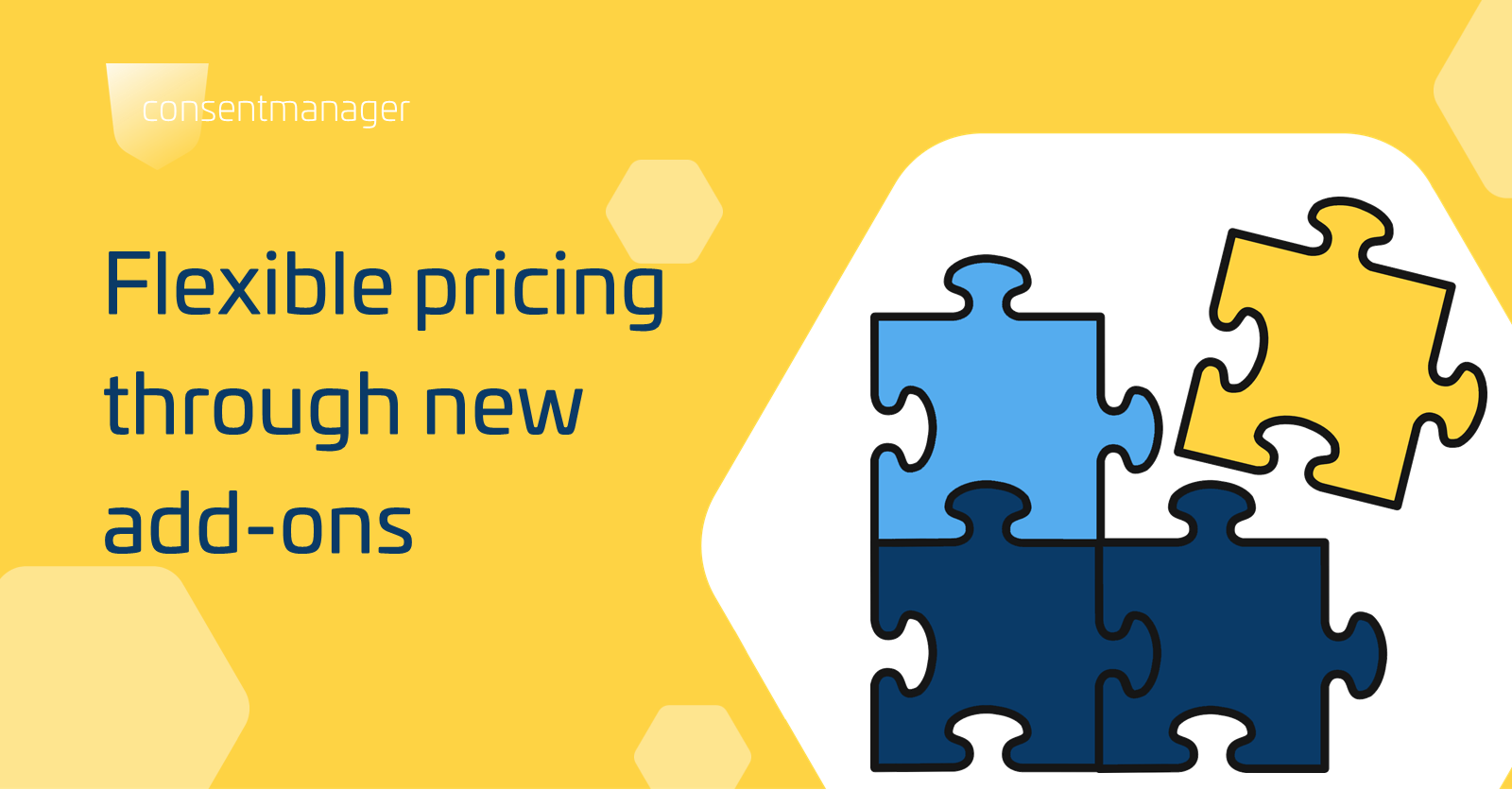 Navigating the Cookieless Future: What Website Owners Need to Know
Are you ready for the cookieless future? As browsers like Google Chrome plan to phase out third-party cookies in 2024, website owners and marketing professionals are left wondering how to navigate the new landscape. In this article, we'll explore what you need to know to stay ahead of the curve and continue delivering personalized experiences to your users.
Click here for the blog article:
https://www.consentmanager.net/knowledge/news/navigating-the-cookieless-future-what-website-owners-need-to-know/
Make an appointment now! Meet us at OMR23 in Hamburg
In less than a month, the OMR Festival will kick off and our preparations are in full swing. If you want to convince yourself of our powerful consent management solution, it's best to book a meeting right away. We look forward to welcoming you at our booth.
Book an appointment now: https://www.consentmanager.de/bookacall/omr-2023/
Date: 09 + 10 May 2023 | 09:00 a.m. – 11:59 p.m.
Location: Hamburg Messe | Messeplatz 1 | 20357 Hamburg
Hall A1 | Stand C01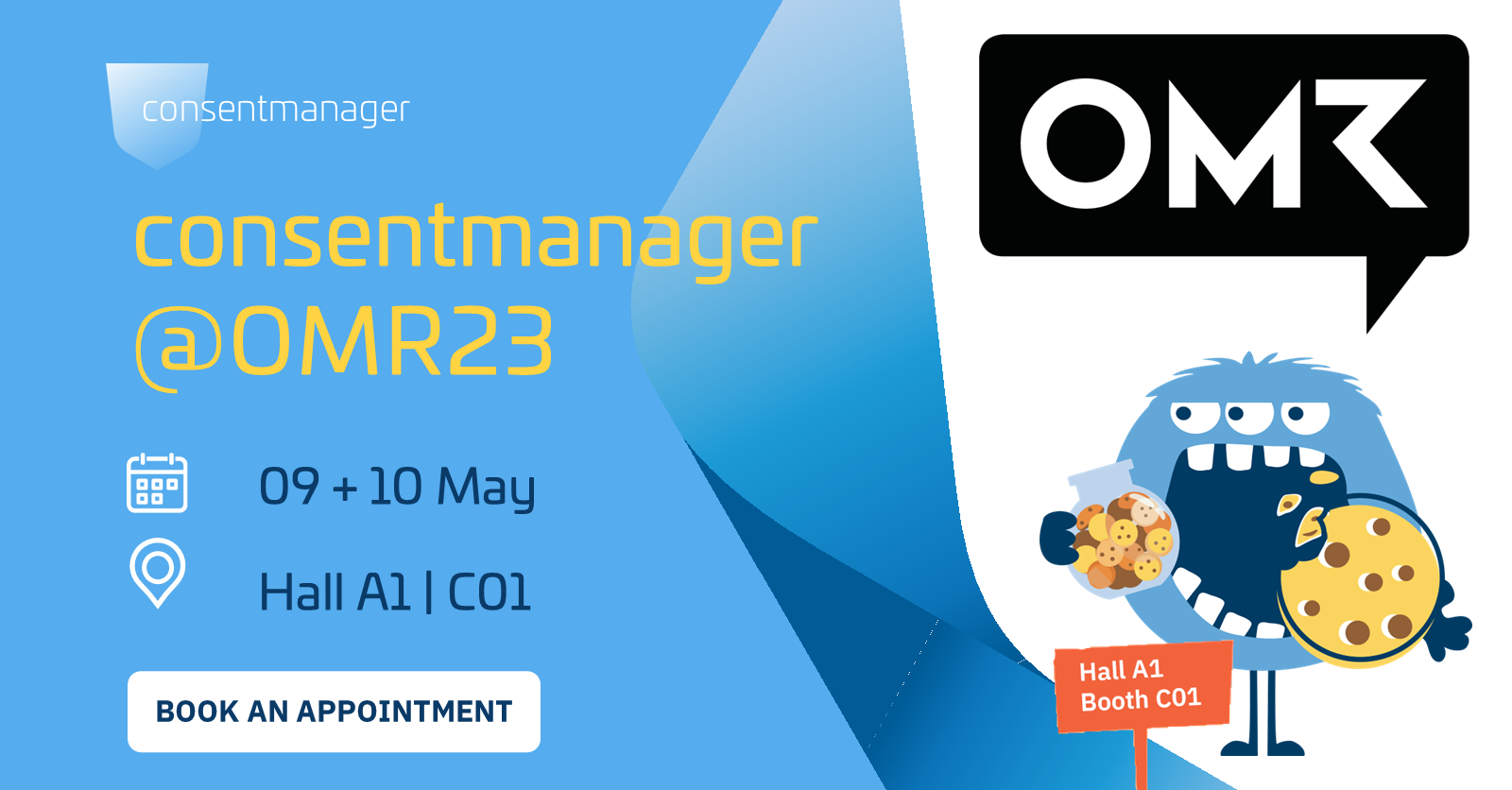 New support tool in use
We would like to inform you that we have introduced a new support tool for support requests via e-mail. In this context, please do not be surprised if the answers to your support tickets appear in a new layout in the future. Apart from that, nothing will change. You can reach our support as usual under the e-mail address: support@consentmanager.net.
REMINDER: Code change necessary / abolition of old codes
We would like to inform you once again that some important code changes will soon be necessary. The first step has already been taken with the last updates. We have started to remove old codes.
You can read about what you need to consider in the following article:
https://www.consentmanager.net/knowledge/news/important-deprecation-of-old-codes/
Further optimisations and adjustments in April
In April there were, among other things, the following minor innovations and changes:
The custom buttons were equipped with additional functionalities, so that it is now possible, for example, to define what exactly should happen when a button is clicked. In addition, it is now displayed how often a certain cookie was found. Likewise, an error in finding custom providers has been fixed.
You can find more new features and optimisations in the complete release log:
Release Log
CMP-1653 Fix crawler does not find custom vendors
CMP-1046 Show count per cookies in crawl result
CMP-1335 Autoblock: High CPU usage issue
CMP-1650 Custom button logic
CMP-1648 Add macro for expand text
CMP-1642 Set default purpose from other cmp
CMP-1654 Add option to close layer and not show for 24 hrs
CMP-1649 Add option on close x for 24hrs
CMP-1627 SDK: Prevent draggable elements
CMP-1586 ATT: Disallow vendors if att is disabled
CMP-1640 Autoblocking doesnt add preview on postload content