Newsletter 08/2023
New CMP functions: Multi-editing and automation for agencies and adnetworks
For companies with many different domains, it can be a challenge to always keep the individual cookie banners up to date to ensure continuous data protection compliance. As part of the current update, consentmanager offers new functionalities in its CMP, which will significantly reduce the effort for users in the future. Gone are the days when each CMP had to be customized individually.
The new functionalities relate to multiple processing options and their automation processes, such as the following:
Multi-editing option

for the assignment of providers to purposes
for the legal basis of purposes/providers
adding providers to multiple CMPs.

Automation:

Copying certain settings from one CMP to another CMP
Ensuring that provider x is present in all CMPs
Copying all found domains into a predefined CMP template and many more
In this context, the reporting has also been extended. Whereas you previously had to call up the required report for each CMP individually, the user interface now offers you the option of creating comprehensive reporting views.


Staging Feature: Test your Banner first before you go live
Do you already know the staging function in the consentmanager CMP? With the staging function, you can check the technical integration of your cookie layer script for error-free execution before it actually goes live. After all, who wants to operate on an "open heart"?
Read our latest article to learn how to use the staging function (with examples):
https://www.consentmanager.de/wissen/staging-funktion-erst-testen-dann-live-schalten/
Previously, this function was only included in the Enterprise package. You can easily book this useful feature as an add-on to your existing package. Try it. You can find our various add-ons in the interface of your CMP.
Canada: What's New in the Canadian Privacy Landscape in 2023
Halfway through 2023, there are a number of changes coming to Canada's privacy landscape. These bring updates and new regulations that can have far-reaching implications for both businesses and individuals. In this article, we provide information on the latest developments, regulations and trends shaping the Canadian privacy landscape.

Read more in our blog:
https://www.consentmanager.de/wissen/neuerungen-in-der-kanadischen-datenschutzlandschaft-2023/
India: Parliament passes Digital Personal Data Protection Bill 2023
At the beginning of August, the Indian Parliament passed the Digital Personal Data Protection Bill 2023. The provisions of the bill regulate the handling of personal data both for India and for companies doing business abroad.
In detail, the new regulations increasingly address the handling of personal data, such as strengthening the rights of individuals, the rights of children or even general principles for handling personal data.

Read more about this in the following blog post:
https://www.consentmanager.de/wissen/indisches-parlament-verabschiedet-digital-personal-data-protection-bill-2023/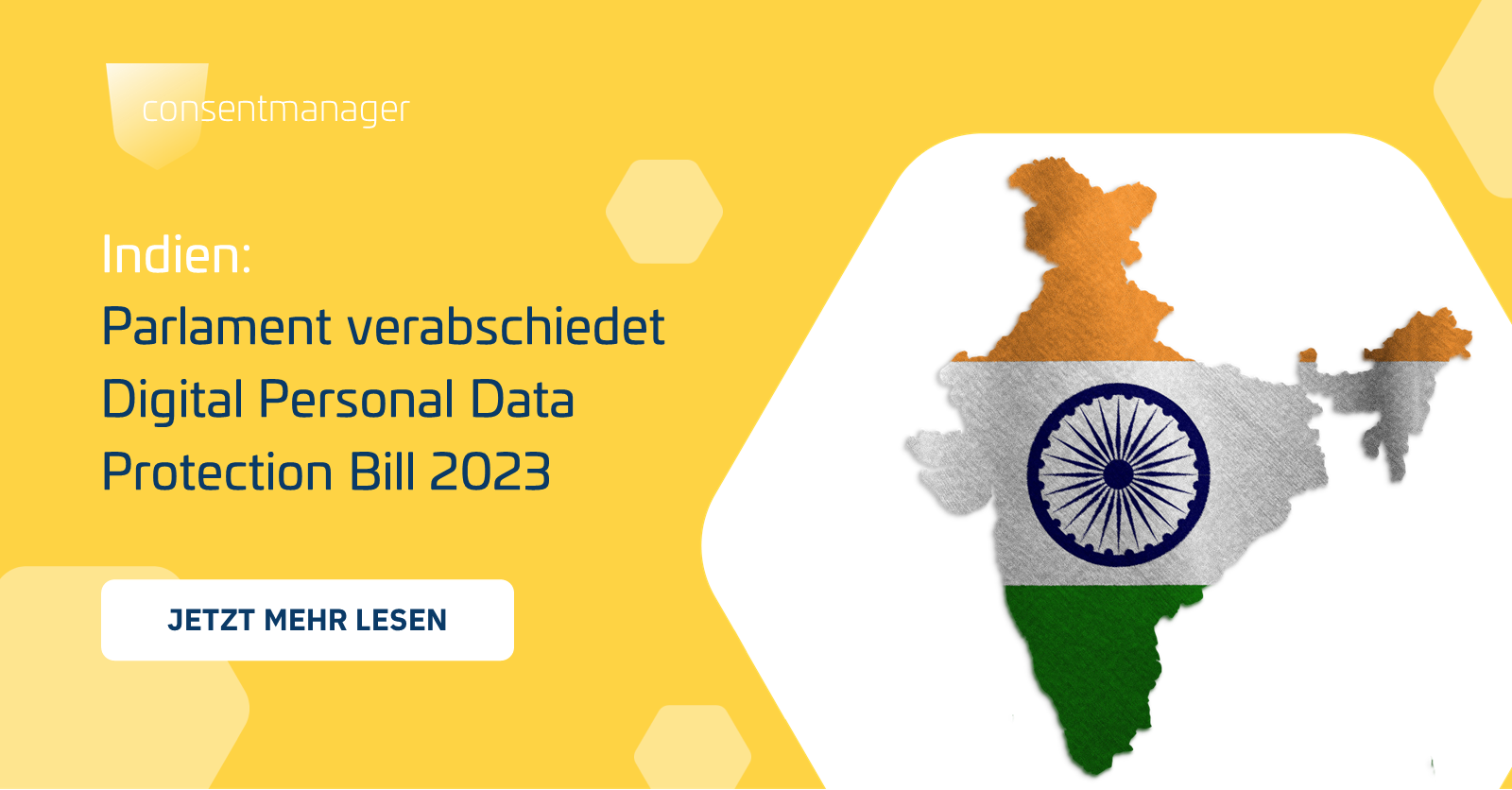 REMINDER: Changes to the Swiss Data Protection Act come into force on 01.09.2023
Is your company prepared for the changes to the Swiss Data Protection Act? The changes will come into force on 01 September 2023. This means that you may also need to adjust your cookie banner settings. However, all companies that already comply with the GDPR accordingly can breathe a sigh of relief, as the Swiss Federal Council emphasizes that companies that already comply with the European General Data Protection Regulations only need to make minor changes.

Here is an overview of the most important changes:
https://www.consentmanager.de/wissen/das-schweizer-bundesgesetz-ueber-den-datenschutz-dsg/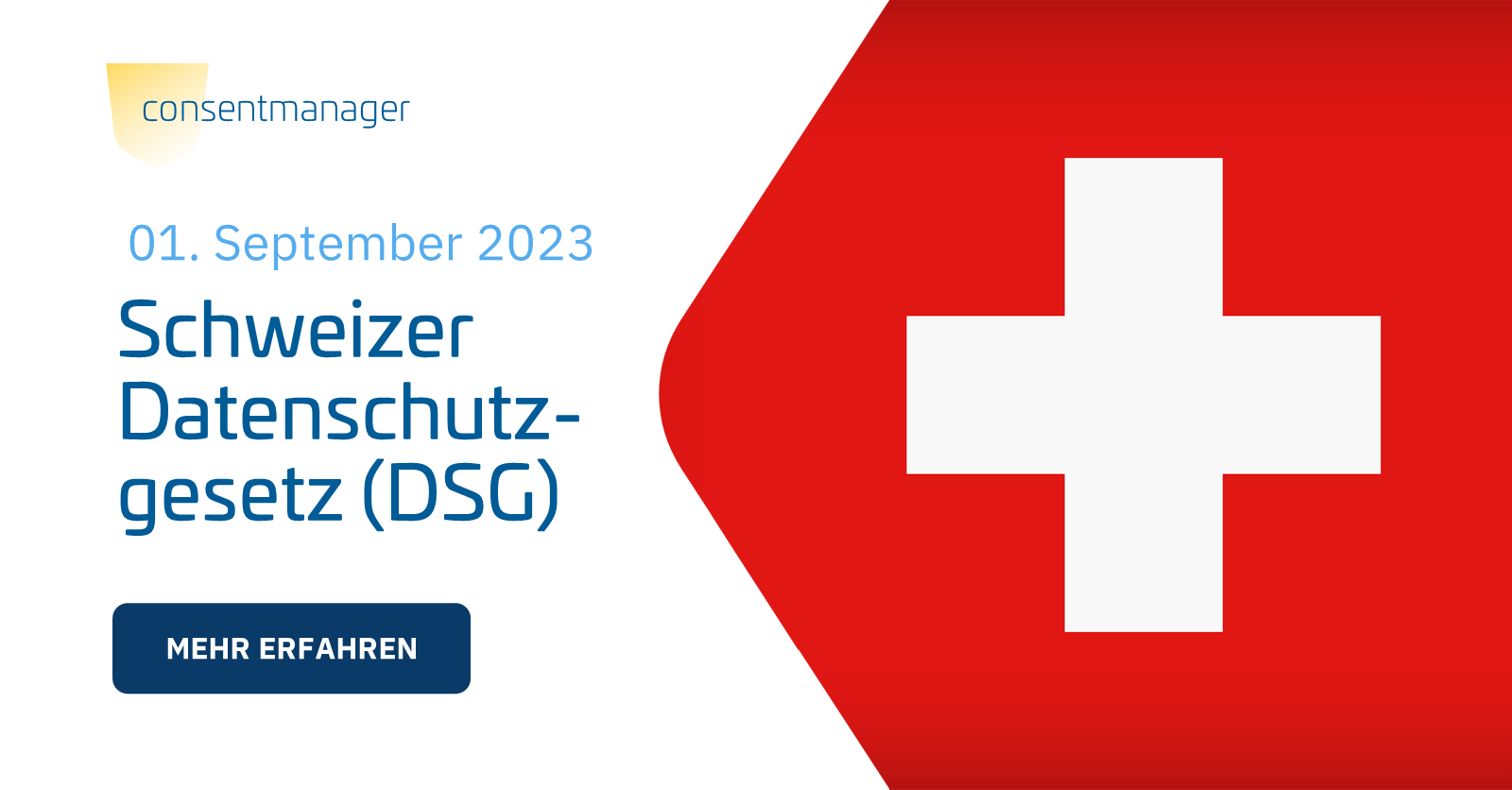 UPDATE: Deadline extension for the use of a Google-certified CMP
Google is extending the transition period for using a Google-certified CMP. Publishers and developers now have until January 16, 2024 to make the necessary changes. This affects all Google partners in the EEA or UK using one or more of the following products: Google AdSense, Google Ad Manager or AdMob. The new requirements include, among other things, that the CMP used must have the Transparency and Consent Framework (TCF) integrated. We already reported on this in our June newsletter. If you are affected by this, you are on the safe side with the Consent Manager Platform from consentmanager. Our CMP already fulfills all Google requirements.

Read more about this here:
https://www.consentmanager.de/wissen/neues/google-cmp-consentmanager
UPDATE: Extension of the transition period for IAB TCF v2.2
In Newsletter 06/2023 we informed you in detail about the upcoming changeover of the IAB TCF 2.0/2.1 to the latest version IAB TCF v2.2. The IAB has now published news in which the deadline for the changeover to the new version v2.2 has been extended.
The new deadline is now November 20, 2023. Users of consentmanager can already switch manually (we currently do not recommend doing so) or else they will be switched over automatically in November.
All the facts for you to read:
https://www.consentmanager.de/wissen/allgemein/iab-tcf-2-2-alle-fakten-zeitleist-wie-man-es-jetzt-benutzt/
Webinar: IAB Europe on "TCF v2.2 – User Interface (UI) Demos and Best Practices".
Join us at IAB Europe on August 22nd for an exciting webinar full of practical examples and tips. This webinar will provide you with an update on TCF v2.2 and how to implement the latest version. As one of the experts, consentmanagers CEO Jan Winkler will welcome you with information worth knowing. At the end of the webinar there will also be enough time for your questions.

When? Tuesday, August 22 at 16:30 CET!

Register now:
https://iabeurope.eu/events/tcf-2-2-webinar-user-interface-ui-demos-and-best-practices/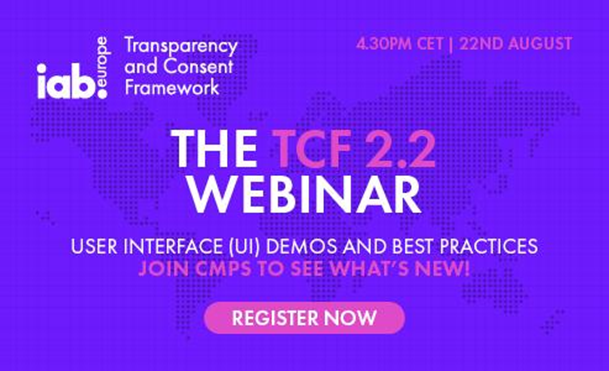 DMEXCO 2023: Secure your appointment now!
Are you planning your schedule for DMEXCO 2023? For an important meeting with our colleagues from consentmanager, we highly recommend that you reserve a place in your calendar. The topic of cookie banners is still an important building block on the road to GDPR compliance. Don't miss the opportunity to exchange ideas.
Make an appointment now:
https://www.consentmanager.de/bookacall/dmexco-2023/
Date: 20. 20 & 21 September, 2023
Booth: Hall 8.1 | E021
Location: Koelnmesse | Messeplatz 1 | 50679 Cologne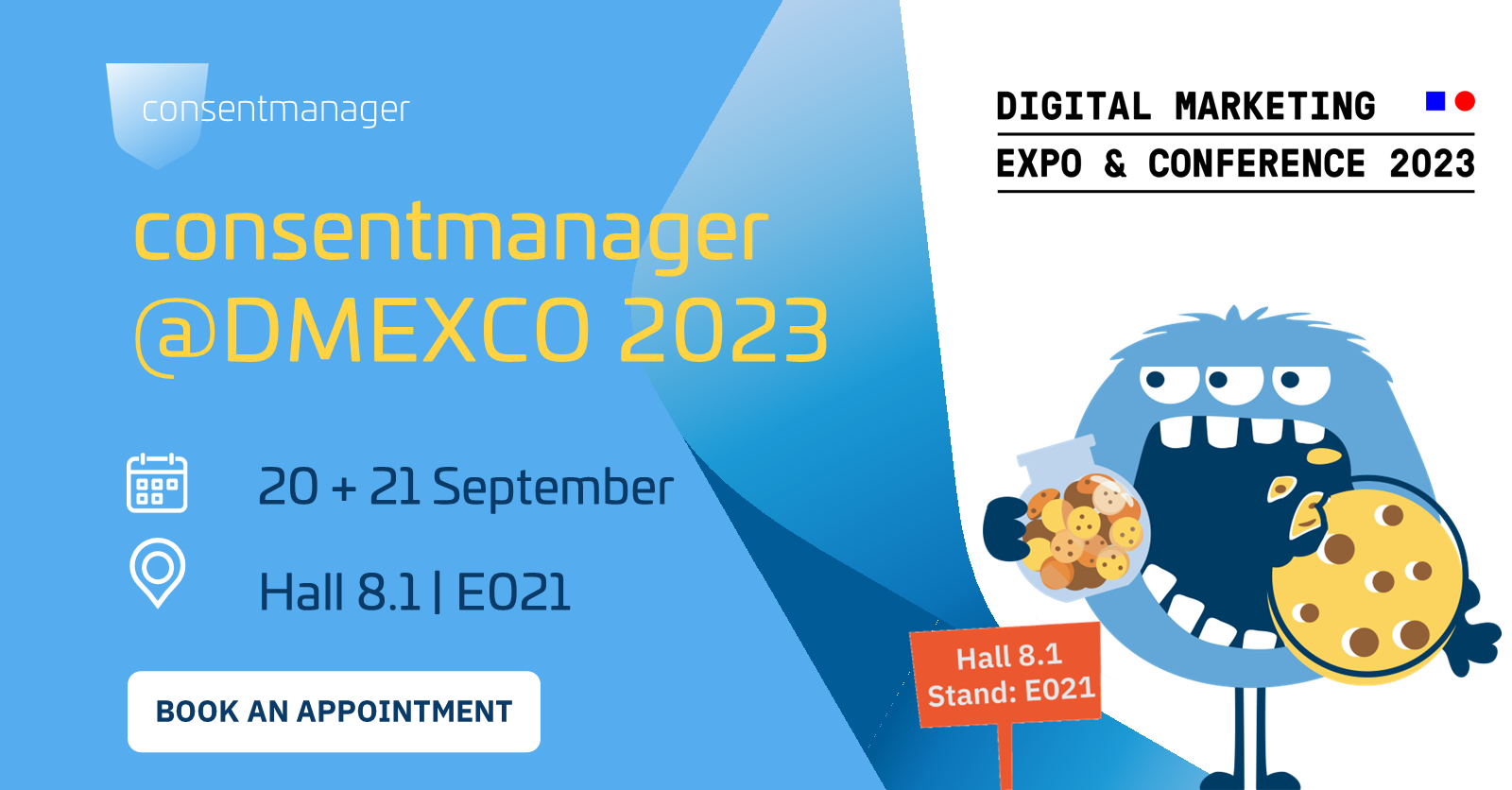 Further optimisations and adjustments in August
The following adjustments and bug fixes were made in August
Incorrect mapping of text settings to languages
Incorrect status displayed for unassigned domains
Problem when creating cookies with wrong domain
the view "assigned domains" is missing etc.
Further innovations and optimizations can be found in the complete release log:
Release log
Issue redirection after creating cookie
Issue creating cookie with incorrect domain
Incorrect status displayed in unassigned domains
Incorrect stack coverage displayed
Add mass update of CMP settings
Fix: Sorting of CMP List/Design List
Text settings dont match language
Remove old codes warning
Fix: Assessing domain to vendor throws error
Purpose list does not copy for staging CMP
Assigned domains view missing
Bug in subaccount group rights
Show last found domains
Invoices download broken
Cookie default setting incorrect
Improve CMP modal design
Add multi-edit option for assigning vendors to purposes
Add multi-edit option for legal basis of purposes/vendors
Twitter not auto-blocked
Network features: CMP sync automation
Network features: Add vendor to multiple cmps
Network features: Automation: Copy all vendors from all CMPs to CMP X (back top template)
Network features: Automation: Ensure that vendor x is in all CMPs
Network features: Automation: Copy all found domains to Template CMP
Network features: Automation: Copy ignored domains back to normal cmps
Network features: Automation: Copy certain settings from cmp to other cmps
Network features: Mass import of CMPs
Add support for AWIN API