Newsletter 10/2023
Improved TV SDK: Easier to use thanks to QR codes
This month we revamped our SDK for TV support. On the one hand, this concerns the possibility of integration into different device types from different manufacturers. On the other hand, we have improved the handling of the consent banner within the TV set. Instead of making complicated settings in the consent banner using the remote control, you can now simply use your mobile phone:
Simply scan the QR code displayed on the television, make settings on your cell phone and the consent banner on the TV automatically saves the selection from your smartphone.

You can also find out more about our improved TV SDK here: https://www.consentmanager.net/smart-tv/


Digital Markets Act: The law on digital markets simply explained
The Digital Markets Act (DMA) came into force at the end of 2022 and its rules have been enforced by the European Commission since May 2, 2023. This article describes how the "gatekeepers" appointed by the European Commission, i.e. the major online players such as Amazon, Alphabet and Apple, ensure fair competition and continue to protect users' rights online.
You can find out what these are here: https://www.consentmanager.net/knowledge/the-law-on-digital-markets

Advanced consent management: These are the features you should know about
The standard functions of a cookie banner tool may of course be sufficient for your company to comply with legal regulations. However, if your business complies with more than one regulation or if your website has an unusually high volume of monthly traffic, you should look for additional features in your consent tool that will not only help you comply with regulations but also improve your business operations.
You can find out which advanced functions we recommend to our users in our article: https://www.consentmanager.net/knowledge/advanced-consent-management-you-should-know-these-functions/
New video: Cookie banner: GDPR compliant with consentmanager & OXID
On October 4th, consentmanager presented the webinar "Cookie Banner: GDPR compliant with consentmanager & OXID" together with our partner OXID. In addition to valuable information about the legal basis for a GDPR-compliant cookie banner, the implementation of one on the OXID shopping platform was also discussed. With the new plugin, the consentmanager cookie banner integration on the OXID platform is now child's play.
For those interested, the webinar can now be viewed later as a video.
Click here for the video: https://www.youtube.com/watch?v=ct_AdZCGTpY
DMEXCO 2023: Great to be back again!
DMEXO 2023 – it was a celebration for us! And this year too, the two days of the trade fair flew by. We welcomed many new and familiar faces to our stand and had many stimulating conversations. Our cookie mascot kept everyone entertained and the new trend is clearly 'wearable cookies'. Our consentmanager team had a great time and we would like to thank all visitors!
See you again in May at the OMR in Hamburg – mark your calendars for 07/08. May 2024!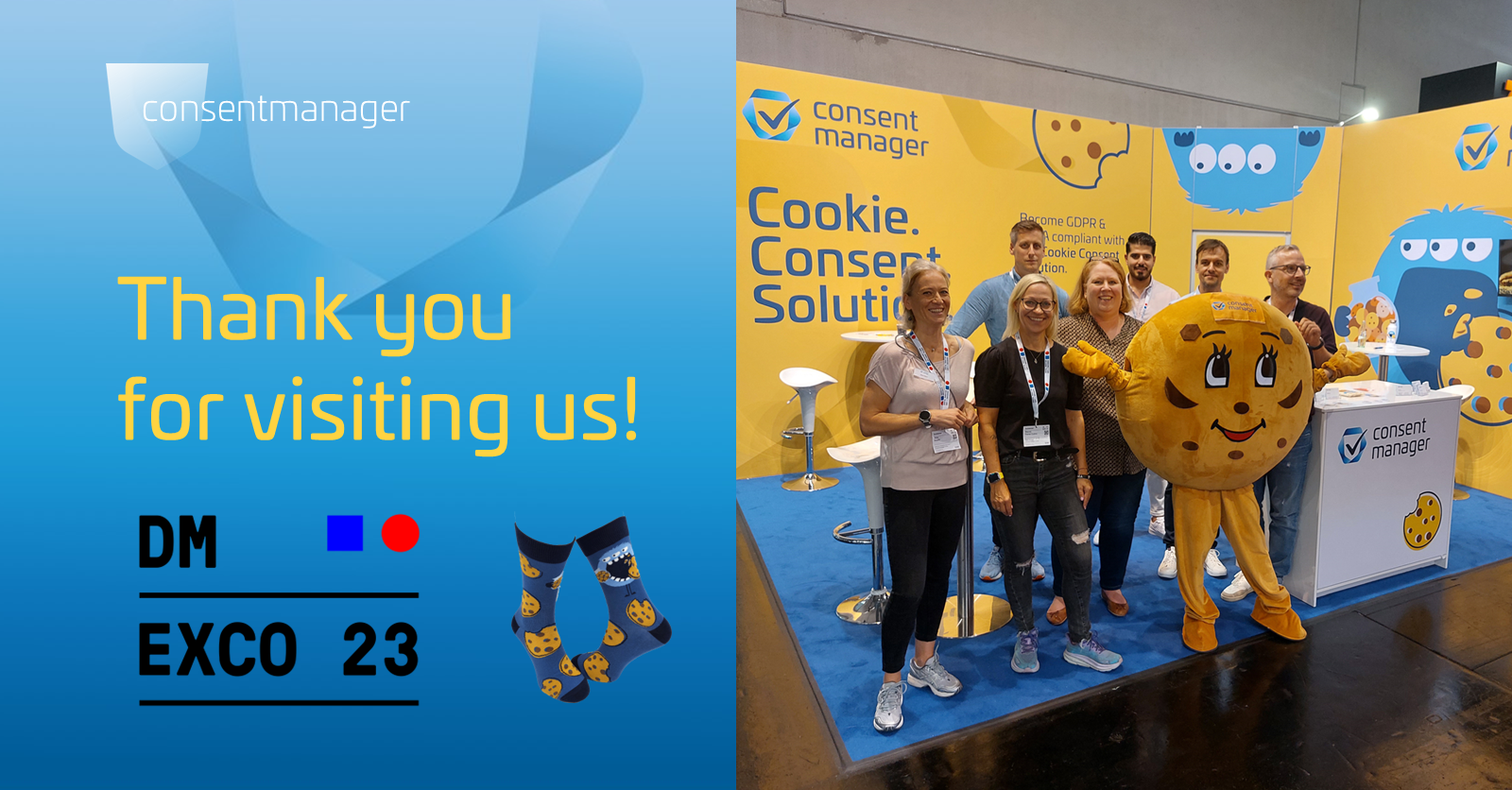 Last Reminder: Switching to IAB TCF v2.2
Only one more month, then the automatic switch to the new version of IAB TCF v2.2 will take place. The exact time for the change is November 20, 2023. Anyone who has not yet informed themselves about this should do so as soon as possible.
Customers can perform the upgrade manually beforehand by logging into their consentmanager account and going to Menu> CMPs> Other settings> Change IAB TCF .
Any CMPs that have IAB TCF enabled and have not been updated by November 20th will be automatically updated to the new version. With the upgrade, the names of the TCF purposes will change slightly, as will some provider information in the consent layer. However, most of the changes will not be noticeable.
We have put together some background information about this in our blog:
https://www.consentmanager.net/knowledge/iab-tcf-2-2-all-facts-timeline-how-to-use-it-now/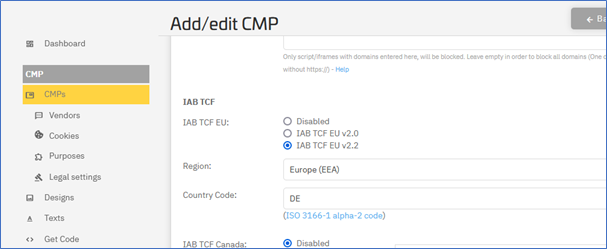 Shopware plugin update v1.1.4
Attention Shopware users: At the end of September, the Shopware plugin was updated to the new version v1.1.4. You can easily download the new version from the Shopware App Store:
https://store.shopware.com/coman81678772889f/consentmanager-dsgvo-cookie-loesung-consent-management-provider.html
Do you need help with the installation? Then take a look at our instructions:
https://help.consentmanager.net/books/cmp/page/how-to-integrate-the-cmp-into-a-shopware-shop
Further optimizations and adjustments in October:
Do you already know our client-side configuration options? To change the behavior or design of the CMP, many different JavaScript variables are available in the consentmanager CMP. Recently, some error corrections were made in this context and a new additional custom HTML field for JS variables was added. You can find an overview of all JavaScript variables in our help: https://help.consentmanager.net/books/cmp/page/client-side-configuration-options
In the design area, missing options in the design preview have also been added and new standard designs have been added. Improvements in the publication of designs have also been implemented.
Release log
Fix choosing a CMP for compliance report
Fix choosing a CMP for Crawler report
Design fixes compliance overview report
Risk report not working properly
Credit card payment issues with expired cards
Translation file in clientv2 not properly loaded
TCF 2.2 support for mobile SDKs
Add option to show vendorlist as macro on first layer
IAB TCF cookie types incorrectly displayed
Allow toggle description in menu
Feature list incorrectly displayed
Protocol view missing in clientv2
Add mail verification on subaccounts
Design Preview is missing options
Issue copying cmp with active custom stacks
Add new default designs
Add option for macro for last choice date
Description of Legal basis for vendors
Layout cookie page with multiple domains
Design fine tuning upgrade page
Add TV code page
Update vendor list design
Add filter for unknown vendors
Updates failed error message missing
Add filter for unknown cookies
UX: Adding multiple vendors from page 2,3,4…
"Find vendors" action missing
"Find cookies" action missing
Improve add vendors design
Improve Design modal design
Vendorlist context menu actions missing
Improve slider design
Improve stack design
LCP optimization
TV SDK: QR Management
Issue deleting a staging CMP
Cookie list waiting missing
Cookies: Assign cookie to new vendor
CMP/Design Modal: Allow switching list view vs card view
Cookielist empty vendor icon
Add hint for staging/live codes
Add option to export Account
Improvement Publish design
Legal bases overlay to narrow