Newsletter 2022/05
consentmanager now with Welect integration
The consentmanager now comes with the Welect integration. Similar to the "PUR-Model" (Accept or subscribe) it allows visitors to choose between a website visit including tracking and advertising or a website visit without personalised advertising. The latter, however, requires a one-time viewing of an advertising video of their choice. This gives publishers more options to increase the monetization of their content.
This integration can be conveniently and individually configured and controlled via consentmanager in the CMP backend. The only requirement for this is a contract between Welect and the website operator. The activation in the consentmanager takes place via a specific customer ID from Welect.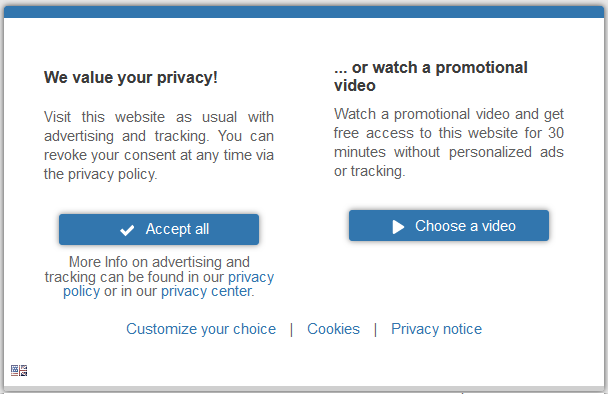 UPDATE: IAB TCF illegal?
We already reported on this topic in newsletter 02/2022. The Belgian data protection authority APD has determined that the IAB Transparency and Consent Framework and IAB Europe, as the administrative body behind the standard, does not meet various points of the GDPR and has demanded a concrete action plan with corresponding proposals for change from IAB Europe.
A recent update on the story has happend: After the IAB Europe had previously requested a suspension of the procedure, this has now been withdrawn as the APD has confirmed the timetable for the examination of the requested action plan. No decision will be made before September 2022. This also applies to any decisions by the Belgian Market Court.
Read the whole article here: https://www.consentmanager.de/wissen/iab-tcf-illegal-alle-fakten-hier-im-faq/ (German)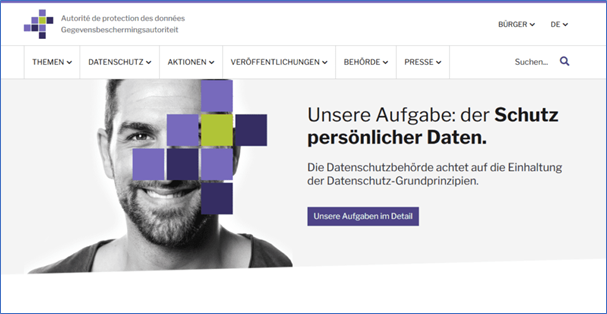 New FAQs on Cookies and Tracking from the LfDI Baden-Württemberg
The LfDI Baden-Württemberg has published a revision of their FAQs on cookies and tracking of website operators and smartphone app manufacturers . The FAQs offers good assistance and a checklist for the compliant design and installation of a cookie banner. Our consentmanager provides you with the platform for the correct technical and content-related implementation.
Among other things, the FAQs answer the following questions:
Recommendations and examples of common mistakes such as incorrect headings, information obligations and consent requirements.
Aspects for the use of analysis services: What is allowed – what is not?
Example recommendations on third-party tools such as Twitter, YouTube, OpenStreetmap
and many more questions and information.
You can also find excerpts on this in our last webinar "Latest developments in data protection Guidance from DPAs accross Europe": https://www.consentmanager.net/knowledge/videos/video-latest-legal-updates-from-dpas-acress-europe/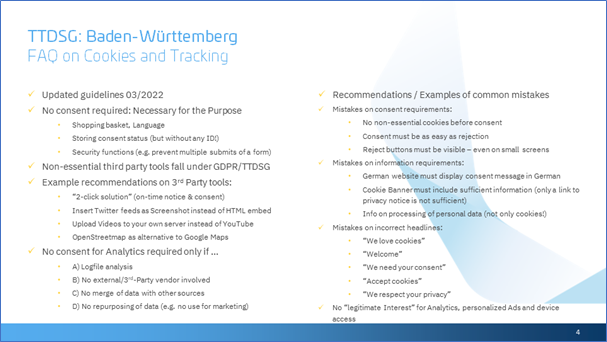 Beta tester wanted
Soon it's time! Our CMP will be released in a new look shortly. We have placed special emphasis on better user guidance and design features.
We would like to invite you to be one of the first users to put our optimised CMP design through its paces.
Have we aroused your interest? Then send us an e-mail with the keyword "beta tester" in the subject line to info@consentmanager.net.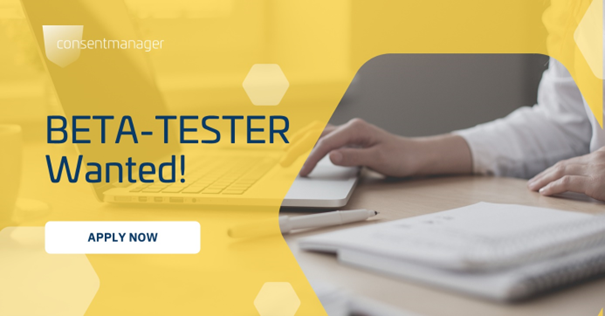 Review: Missed the webinar?!
Did you miss our last webinar on "Latest legal updates from DPAs across Europe". No problem, we have recorded the webinar for you. Learn more about the latest developments on data protection such as:
FAQ on Cookies & Tracking – TTDSG / DPA Baden-Württemberg.
Guidelines on cookies – DVI / Latvia
Google Analytics – DSB / Austria
Guidelines & Analytics – CNIL /France
and much more
Click here for the video – enjoy watching: https://www.consentmanager.net/knowledge/videos/video-latest-legal-updates-from-dpas-acress-europe/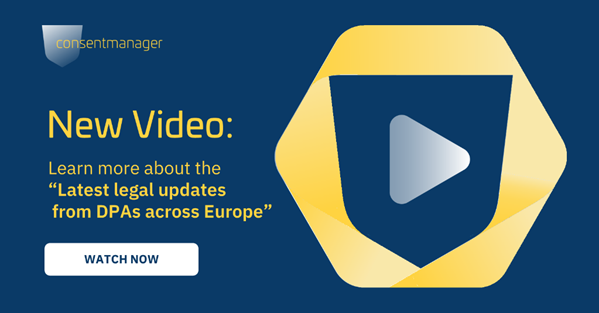 Meet us at TactixX 2022 in Munich!
This year's TactixX will take place in Munich on 12.07.2022. At TactixX, the largest DACH conference for affiliate marketing and display advertising, the industry meets for a lively exchange to discuss current trends and challenges. Of course, the topic of Consent Management is not to be missed. We will also be there!
Take the opportunity to meet us in person at TactixX.
Book a meeting now: https://www.consentmanager.de/bookacall/goetz/
Date: 12 July 2022
Time: 09:00 to 19:00
Location: Hilton Munich Airport | Terminalstraße Mitte 20 | 85356 Munich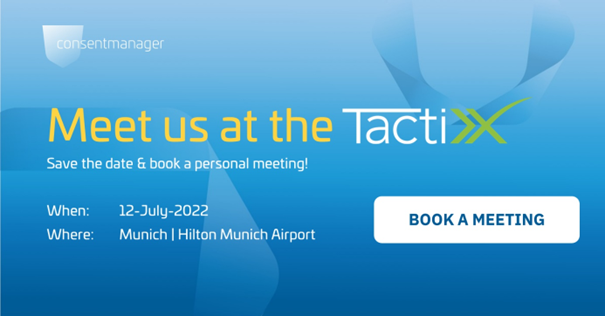 Your desired webinar – ideas wanted!
We would like to continue tailoring the content of our webinars to the needs of our users.
For this we need your input! Do you have any topics of interest? Then please send them to: info@consentmanager.net with the subject line "Webinar Wish".
We will incorporate your ideas into our selection of topics.
New optimisations and adjustments
The May update includes an optimisation of the SPA single-page application in the CMP. Improved compatibility and automation of the processes ensure higher recognition and secure blocking of dynamically loaded content.
In addition, some changes to the cookie crawler chart, print mode for the vendor list and options for designing the backlink were implemented.
Release log
CMP-1267 Client V2 Alpha Phase
CMP-1264 Fix consent order on PUR model
CMP-1125 Cookie Crawler Chart => remove consentmanager
CMP-1251 Fix reporting for more than 100 days
CMP-1250 Fix AMP consent older than 12 months
CMP-1031 Welect integration
CMP-1063 Print mode for vendor list
CMP-1228 Add support for SPA
CMP-1238 Add purpose ID to vendor objects in CMP data (JS API)
CMP-1260 Last crawl date incorrect
CMP-1266 Option to style back link