Newsletter 2022/08
Optimization – the key to better performance
The special highlight is our new optimized customer area. With a fresh new design and improved usability, you can look forward to an exciting user experience. In addition, more clarity and structured user guidance will make it even easier and faster for you to create and customize your cookie layer. This also includes various setting options for your own advanced fine-tuning.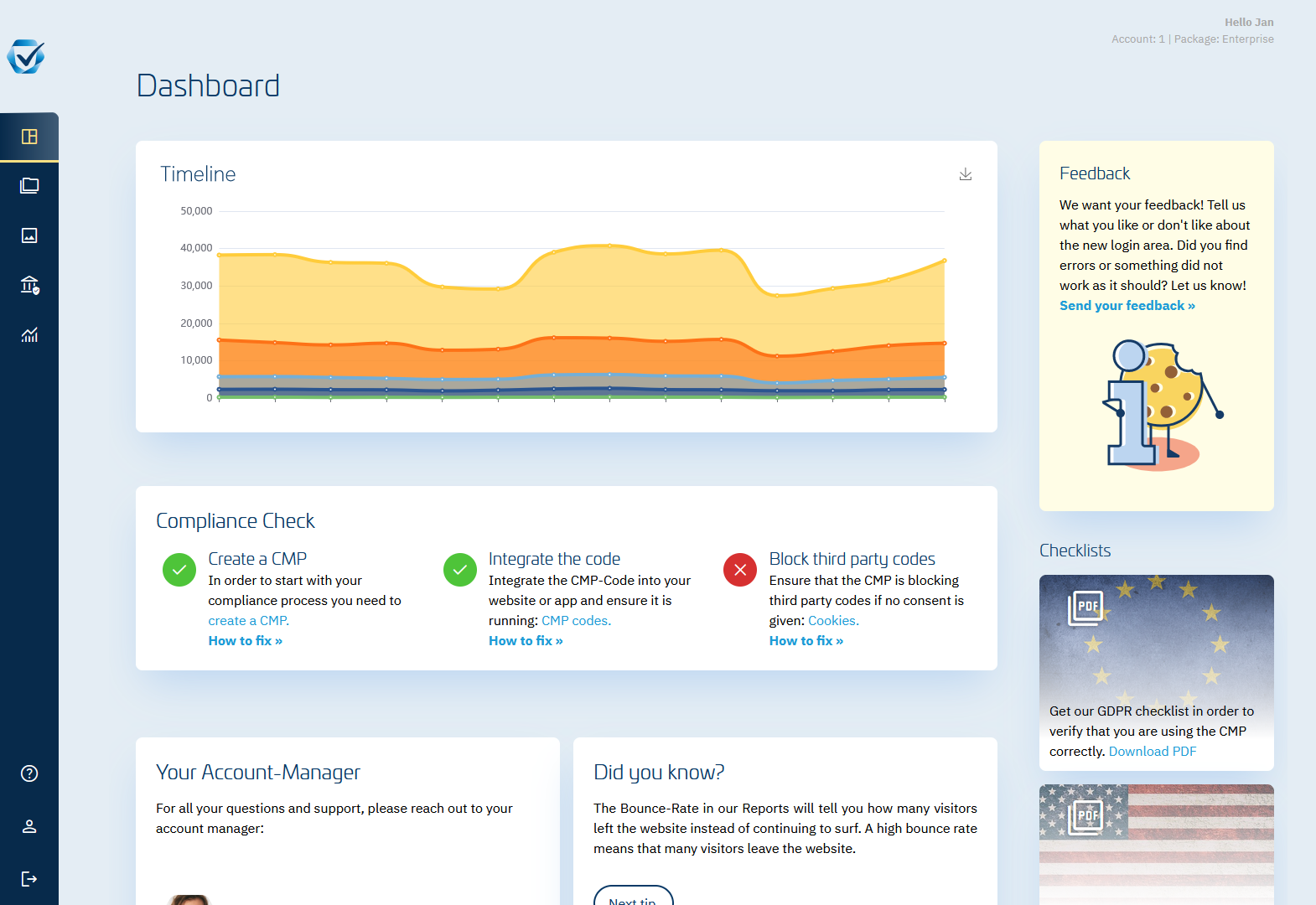 In addition to this, you can expect some new and improved optimization features to further increase your website performance. We have equipped our Machine Learning module with a more comprehensive database and provide even more accurate calculations about the winner and loser consideration of the different banner design variants. This will help our clients to further increases the performance of your website in terms of acceptance rates and bounce rates.With the current update, our system also provides you with extended optimization reporting, which will support you in your business decisions.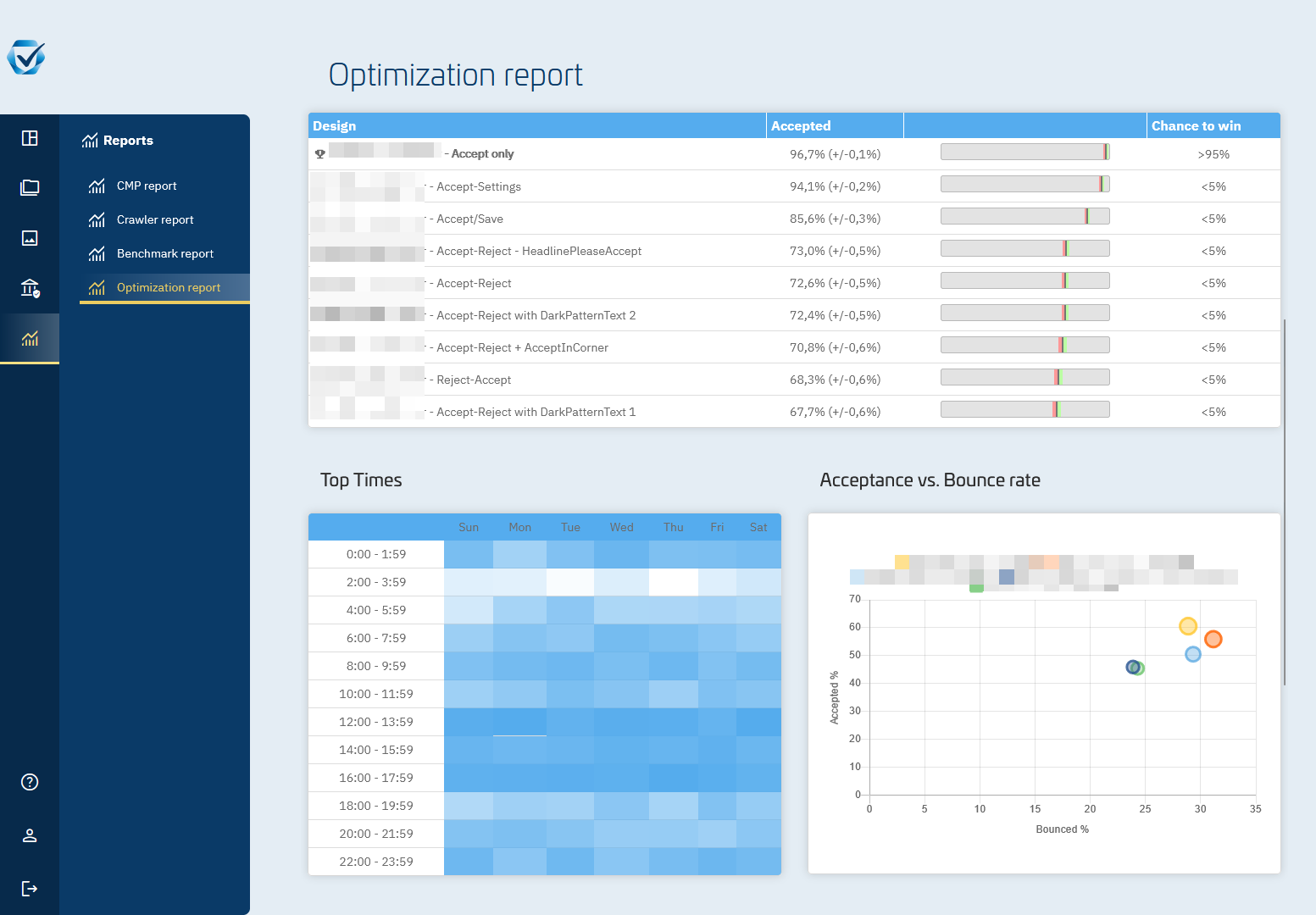 Convince yourself of the new functions and try them out right away.
Go to Login: https://www.consentmanager.net/
Google Fonts & Privacy – the right way to handle
The use of Google Fonts in connection with data protection aspects always conjures up discussions and uncertainty for website owners. Currently, this uncertainty is also intensified because a flood of warning letters is overwhelming websites.
The background is that when Google Fonts are used via Google servers, the visitor's browser downloads the font files directly from Google. At the same time, data such as the user's IP address and browser information is communicated to Google, which could then be used for Google's own purposes. To avoid this, consentmanager provides you with a quick guide for the GDPR-compliant use of Google Fonts.
Here are some helpful tips:
The best way to use the font files is to download them from Google servers and place them directly on your own server. This way Google is no longer involved and privacy principles are no longer violated.
Another option is to allow the consentmanager to block these fonts by using consentmanager's autoblocking code. Please note that blocking stylesheets & fonts is not enabled by default and must be turned on by you.
If you are using the manual blocking code: You can block fonts by updating the <link ..>-code.
Example: <link class="cmplazyload" data-cmp-vendor="s2612″ data-cmp-href="https://fonts.googleapis.com/css2?family=Roboto:wght@100&display=swap" rel="stylesheet">
Want to learn more? Then read our full help article: https://help.consentmanager.net/books/cmp/page/working-with-google-fonts
DMEXCO 2022 in Cologne is ready to go!
This year's DMEXCO will take place in Cologne on September 21 and 22, 2022. After a break of two years, industry experts will finally be able to discuss current trends and developments in digital business in person again. Of course, the topic of consent management will not be missing.
We will also be on site! Don't miss the chance for exciting conversations.
Meet our experts in person at DMEXCO.
Book an appointment now:
https://www.consentmanager.de/bookacall/dmexco-2022/
Date: September 21 & 22, 2022
Booth: Hall 8.1 | C012
Location: Koelnmesse | Messeplatz 1 | 50679 Cologne, Germany
Visitor hours: Wednesday 09:00 to 18:30 | Thursday 09:00 to 17:30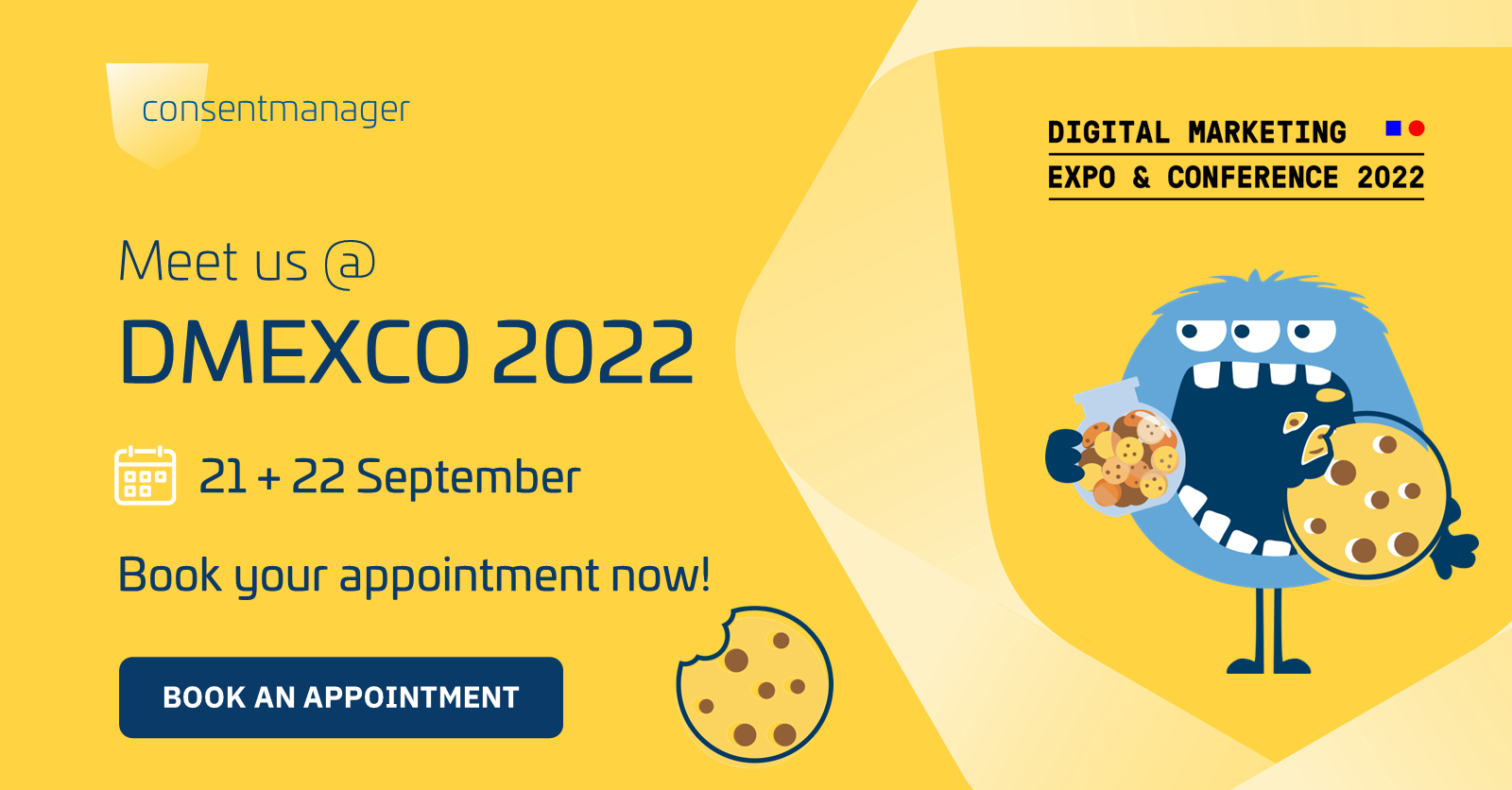 New webinar in September – don't miss it!
Don't miss our next webinar on the topic:
consentmanager: using optimization features and reports effectively!
When? 02 September 2022 at 2:00 p.m.
Language: English
Register now! https://www.consentmanager.de/wissen/neues/webinar-2022-09-02-en/

What other topics are you interested in?
We would like to continue tailoring the content of our webinars to the needs of our users.
For this we need your input! Do you have any topics you would like to see covered? Then please send them to: info@consentmanager.net with the subject line "Webinar Wish".
We will incorporate your ideas into our selection of topics.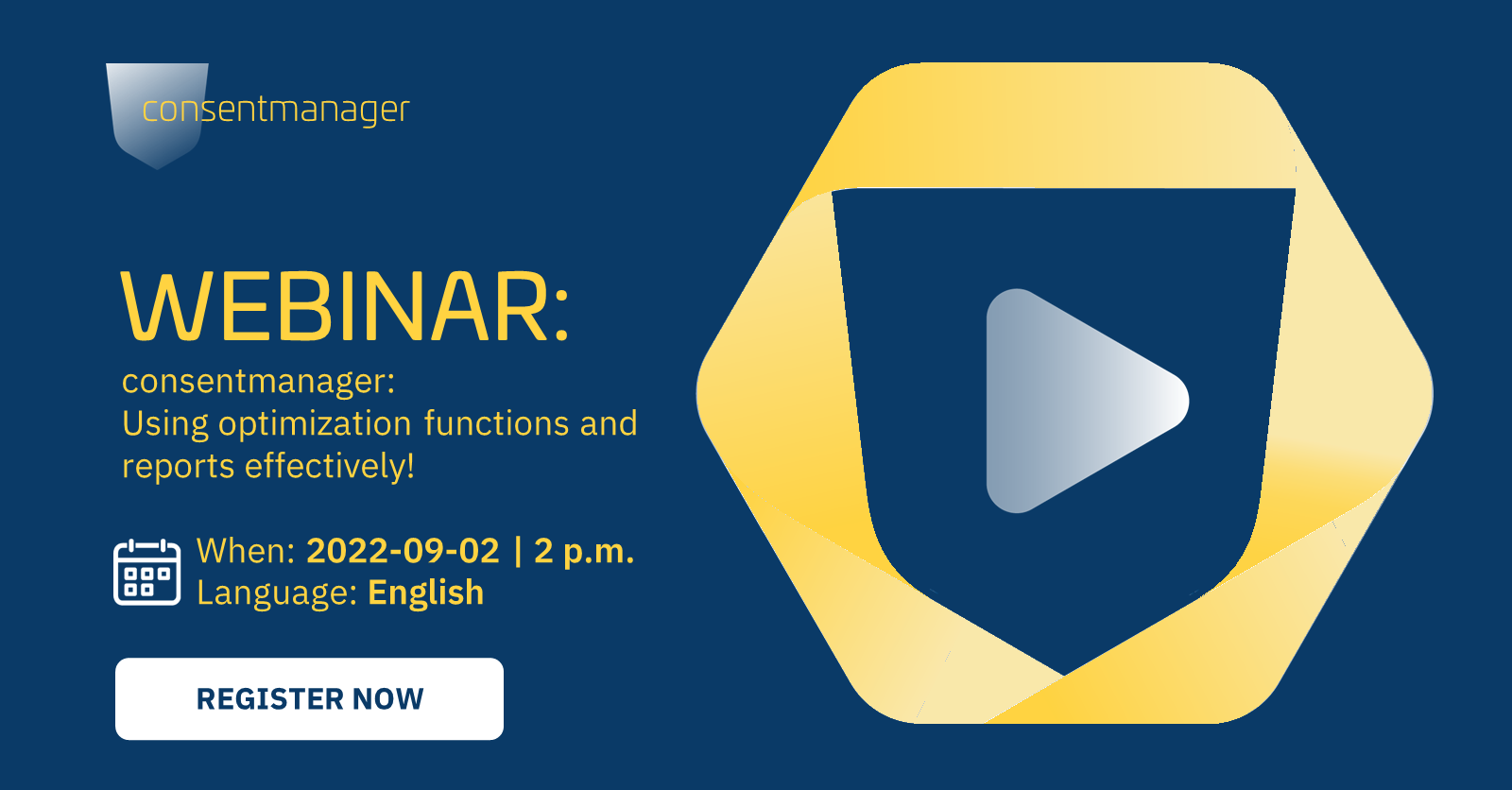 Do you already know our partner program?
You are a marketing agency, IT company, trade association, data protection officer or similar and would like to offer your customers or members an extended service in the area of cookie consent plattforms. Then we have the right solution for you.
Consentmanager offers different partner models for the individual needs.
Profit from many advantages:
Increase your turnover through commissions and service contracts with your customers
Build trust with your customers as a compliance expert
Increase customer satisfaction and loyalty
If you have questions about our partner program, book an appointment with our experts or apply directly via our form at:
More info at: https://www.consentmanager.de/partnerprogramm/
Further optimizations and adjustments in August
In August, some minor improvements were made or bugs were fixed. Among other things, adjustments were made to the autoblocking blacklist, furthermore, the source information for the domain and vendor list was supplemented. The info is now displayed whether the blocking originates from crawlers or was done manually. Another very useful feature: When creating new CMPs or registering for an account, relevant plugins for the corresponding CMS, if one is used, are automatically offered to the user. As always, there were also many other small innovations and changes.
Release log
CMC-182 ClientV2 Go Live
CMP-1357 Cookie time persistent
CMP-1271 Recall icon: Option to show 2nd or 1st layer onclick
CMP-949 Find store type from crawler
CMP-1185 A/B-Testing: Add note/info that clients need to be aware of DPIA
CMP-1227 Add option to integrate custom settings page directly into the page
CMP-1236 Add public sector as industry
CMP-1252 Cross domain consent update
CMP-1296 Show "session" for expiration date
CMP-1346 A/B Test Sample Size
CMP-1347 A/B Testing significance
CMP-1360 Show source of dominalist/vendorlist
CMP-1362 Option to show 2btns + Save
CMP-1363 Autoblocking blacklist
CMP-1365 Data API 16 issue
CMP-1367 Issue IFrame Preview in Safari