Newsletter 02/2022
We're excited to announce the latest update that has gone live! Among many new things, these are the main features available with the new update:
Illegal #1: Google Fonts Illegal?

At the end of January, the Munich Regional Court had to deal with the topic of Google Fonts (integrating fonts into a website). The court ruled that embedding Google Fonts via Google's server without consent was illegal and awarded the plaintiff damages. As you are used to from consentmanager, we reacted directly and in this month's update created the possibility to block Google Fonts and other external font and style elements (automatic blocking: menu> CMP's> To edit> Other options> Block stylesheets or block them manually via code customization, see help).
Our recommendation: Activate blocking or, best of all, simply download the fonts and place them on your own server.
Illegal #2: Google Analytics illegal?
In addition to Google Fonts, Google Analytics was also recently "caught": In Austria, the data protection authority there decided in one case that Google Analytics was not compatible with the principles of the GDPR, since data is sent to the USA and there is no adequate level of protection there. The website operator was therefore prohibited from using Google Analytics (especially since an insufficient consent banner was used in this case). A little later, the Dutch and French data protection authorities followed suit and also ruled that the (unprotected) integration of Google Analytics was not GDPR-compliant. It can be assumed that other state authorities will follow suit.
Our recommendation: Only use Google Analytics with your consent or look for alternatives that are friendly to data protection (e.g. etracker or Matomo).
Illegal #3: IAB TCF illegal?
The Belgian data protection authority has also caused a stir. This had to decide on the IAB TCF standard. The authority found that under the current circumstances, the IAB Transparency and Consent Framework, as well as IAB Europe as the administrative body behind the standard, do not meet various conditions of the GDPR. The IAB has now been given a two-month period to develop an "Action Plan" with proposed changes. The proposed amendments are intended to show how the TCF can be redesigned to be GDPR compliant. The IAB Europe has since appealed against the decision. We have put together more details in our FAQ .
Our recommendation: If you have nothing to do with online advertising (e.g. e-commerce or company websites), you should not use the IAB TCF standard. If you can't do without it, you shouldn't panic now, but wait and see how the situation develops.
Purposes & Sliders
Also new this month is the possibility of rearranging and sorting purposes: Simply "tap" the entry and move it to where it should appear.

Our slider feature is also new: Instead of displaying the purposes with several checkboxes on the first page of the consent layer, you can now use a slider. The visitor can then choose between several positions and thus switch several purposes on and off at the same time. The settings for the slider can be found under Menu > Purposes under the list of purposes.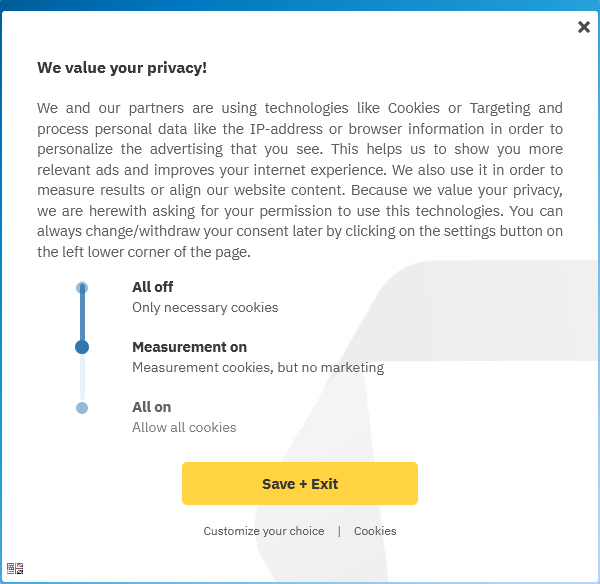 More new features and changes
As always, this month we've also made many small feature adjustments. There are adjustments when copying CMPs and designs, new options for storing legal bases and more text options for preview images.