Newsletter 2020/12
data controller
A principle of the GDPR is to clearly communicate who is processing which data and for what purpose. In order to ensure more transparency for the website visitor, consentmanager now offers the option of naming the data controller and the data protection officer directly in the consent layer. To enable the display, simply go to Menu > CMPs > Edit and check the Display Owner checkbox.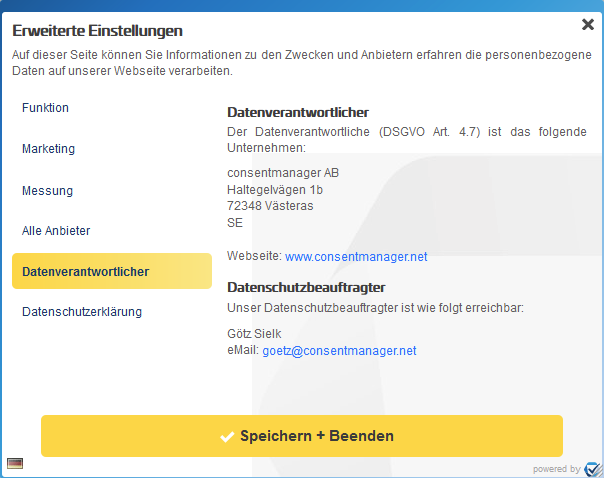 Important judgments in Germany and France
In the last few weeks there have been some important judgments and decisions in Germany and France. In Germany, the Rostock Regional Court had to decide on a case that involved what information the consent layer must display and how it must function. A conclusion of the judgment is in particular that an equivalent selection must exist. This means that there must be an accept and a reject button and these must be presented "equally". In the case in question, the accept button was colored green and the second button led to the detailed settings and was gray and therefore less important.
Recommendation: Check your designs and make sure they have an accept and reject button and they are designed equally.
In addition, the French data protection authority has imposed fines. Google (EUR 100 million fine), Amazon (EUR 35 million fine) and Carrefour (around EUR 3 million fine) were hit. The authorities are therefore becoming much more active and it is advisable to check the settings of the consent layer.
webinars
A number of webinars took place in December, in particular on Getting Started and IAB TCF v2. The documents and videos of the webinars can now be found online on our website: https://www.consentmanager.de/wissen/videos/
More new features and changes
Report improvements
Auto block improvements
Better support of WCAG standards
… and much more.