Newsletter 2020/12
Data controller
One of the principles of the GDPR is to clearly communicate who processes what data for what purpose. In order to ensure more transparency for website visitors, consentmanager now offers the option of naming the data controller and the data protection officer directly in the consent layer. To enable it, simply go to Menu> CMPs> Edit and check the box to display the data controller.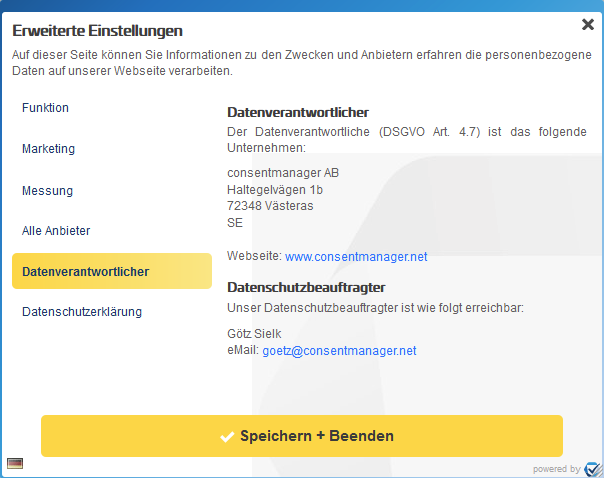 Important court decisions in Germany and France
In the past few weeks there have been some important judgments and decisions in Germany and France. In Germany the LG Rostock had to decide on a case which concerns what information the consent layer has to display and how it has to work. A conclusion of the judgment is in particular that an equivalent option must exist. I.e. there must be an accept and a reject button and these must be presented as "equivalent". In the case in question, for example, the accept button was colored green and the second button led to the detailed settings and was gray and therefore less important.
Recommendation: Check your designs and make sure that there is an accept and reject button and that they are equally designed.
The French data protection authority has also imposed fines. It hit Google (100 million EUR penalty), Amazon (35 million EUR penalty) and Carrefour (around 3 million EUR penalty). The authorities are becoming much more active and it is advisable to check the settings of the consent layer.
Webinars
Several webinars took place in December, especially on the subject of First Steps and IAB TCF v2. The documents and videos of the webinars can now be found online on our website:
https://www.consentmanager.net/knowledge/videos/
More features and changes
Better reporting
Improvement on automatic blocking
Better support for WCAG standards
… and many more.
Release log
With the coming release we will apply the following changes:
CMP-415 Issue: Toggle is always green
CMP-417 Issue on benchmark report
CMP-40 Display last change date in preference ceter
CMP-90 Allow assigning unknown domains in crawler report
CMP-112 Improved WAG accessibility
CMP-162 Benchmark report should show "n"
CMP-207 Add controler infos to consent layer
CMP-222 Rights issue with deleting purposes
CMP-242 Add JS function for closing the layer
CMP-245 Allow to hide custom settings link
CMP-249 Hide Consent layer on print
CMP-283 Close-X in vendor details covers the description text
CMP-297 Crawler should report unknown domains to alertdomains list
CMP-322 Show vendor details in vendorlist
CMP-400 Vendors with special purposes cannot be rejected
CMP-437 Design fixes to carousel menu
CMP-440 Issue changing color of save button
Reminder
Deprecated: dataLayer.cmpVendorsConsent / dataLayer.cmpCustomVendorsConsent – use dataLayer.cmpConsentVendors instead. Fields will be removed by Jan 2021
Synchronous use of the CMP is deprecated. Support will be removed by Jany 2021.